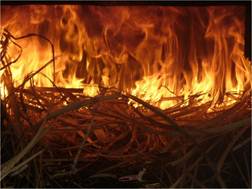 Beema Bamboo is a new variety which has got huge potential to bring revolution in the field of Bio-Energy. Beema bamboo is improved clone selected from naturally occurring wild population of Bambusa Balcooa and it is not a GMO plant. The original Mother Plant is multiplied through Tissue Culture and provided as 1st Generation Plants, which is a True Copy of the Original Mother Plant. The Beema Bamboo is Grown for several purpose. When it is grown as Energy Plantation, it is used as a Bio-mass Feedstock for
Green Electricity production
Bio-Ethanol Production
Bio-CNG Production
Beema bamboo is considered as best among other known Biomass resources because of following reasons:
High calorific value of 4000 K Cal/Kg.
Low Ash Content of around 1.0%.
The Biomass yield is 100 tons per Ha / annum (40 tons/ac/yr).
Biomass Feedstock at Lowest Cost of Production.
Higher density than many other Bamboo species.
It is a thornless, fast growing, High yielding species that can be harvested every year on sustainable basis.